If you don't know much about bull riding, Queensland Country Bank Member Michael Smith says, "It's pretty simple. It's you verse the bull and it all comes down to eight seconds. If you don't last the eight seconds you don't get scored."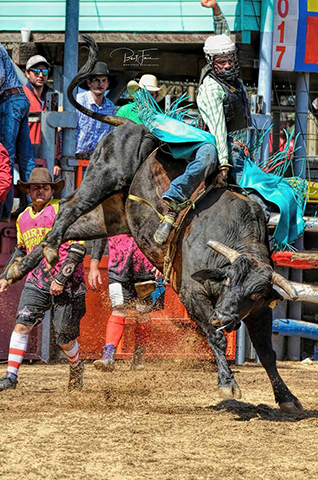 Michael is half way through his second year as an open bull rider and has competed in multiple circuits across the country including the Australian Professional Rodeo Association (APRA). This weekend he will compete for the first time in the Mount Isa Rodeo, of which Queensland Country are proud Major Sponsors. Mount Isa will be his last big chance to ride and claim a spot in the 2017 top-15 finish in APRA standings and qualify for the national finals in October.
The 20 year old started riding junior bulls when he was 14 at local rodeos near his home town in Tully Queensland, and said it's always been a family sport that he's enjoyed.
"My dad and brother are bull riders too and even though my mum knows it can be dangerous she has always been supportive of us competing. She knows how much we love it."
The rider and the bull are scored out of 50 points each - the bull for its bucking performance and the rider for his control and riding technique. When it comes to preparing for the ride, Michael says the less you think about it the better.
"There's a mental side to it for sure, but you have to practice as it helps your confidence and knowing that you're ready. I ride about six practice bulls per week and compete at a rodeo most weekends.
"Most people don't realise that bull riding is a sport. Part of my training is going to the gym and for a run most nights. The fitter you are, the more likely you are to feel confident for those eight seconds."
Most bull riders ride for points, prize money and of course the well-known belt buckles. Michael's goal is to get as much experience as he can in Australia and has the dream that one day he may be able to take it overseas as a career.
Michael said he finds his inspiration through most of the Australian riders, like Troy Wilkinson, who have succeeded here on our home soil, achieved Professional Bull Riding (PBR) titles and from those who he has seen go through the local ranks and qualified to compete overseas.
Queensland Country Bank wishes Michael, the bulls and other competitors a great eight seconds this weekend. We look forward to seeing you there!
---
Photos: Bootface Photography bootfacephotography.com.au