Queensland Country Bank has been awarded with one of Canstar's inaugural Outstanding Value Green Car Loan Awards.
For the first time, Canstar introduced a number of new green awards and determined that Queensland Country Bank was one of only four institutions to receive the '2022 Outstanding Value - Green Car Loan Award'.
Our Head of Products and Marketing, Stephanie Gillman said, "We're extremely proud to be independently recognised for our green car loan product since its launch in December 2021.
"This product aligns with our company values and shift to being more sustainable by providing our Members with the option to go green with a new or demo green vehicle*.
"As a member-owned organisation we put our profits into providing better value for our Members and are aware of what social issues matter to them, so it was a conscious choice to enable Members to have a green alternative."
Mrs Gillman added: "In addition, with this alternative product, our Members have the option of borrowing up to 10% of their loan value to go towards upgrading their home with solar or charging stations.
"We've always prided ourselves on providing flexible financial solutions with competitive interest rates and features that matter, like no deposit required, flexible repayment options, a redraw facility, no ongoing fees and pre-approval for added bargaining power.
"Queensland Country's decision to take a proactive approach with the launch of this product provides a great opportunity for the bank to be a leader in this important social change in the marketplace.
"It is pleasing to see that our award-winning product has been received well by our Members with over 50 green car loans funded since its inception."
Canstar's Ratings Manager, Josh Sale said, "In recognition of the fact that Aussie consumers are more environmentally-conscious than ever before, this year Canstar has introduced a number of new green awards including the Outstanding Value Green Car Loan.
"This award singles out specific products that are designed for the purchase of an electric, hybrid or reduce emissions motor vehicle and represent outstanding value in terms of price and the features on offer.
"We're pleased to recognise Queensland Country Bank as one of the winners of this inaugural award.
"Queensland Country Bank's Green Car Loan offers one of the lowest interest rates in the green car loan market at 4.24 percent and a comparison rate of 4.45 percent. The loan has a redraw facility and flexible repayment options to support borrowers with managing their repayments while also having a low upfront fee and no ongoing fees that both help to keep costs low."
Mrs Gillman says that Canstar is a consumer focused, trusted source for Australians to turn to when researching and comparing financial products.
"To have been independently rated as one of the top products in the country against the criteria that matters most to us too is great news for Queensland Country but more importantly, great news for our current and future Members who take out the loan product."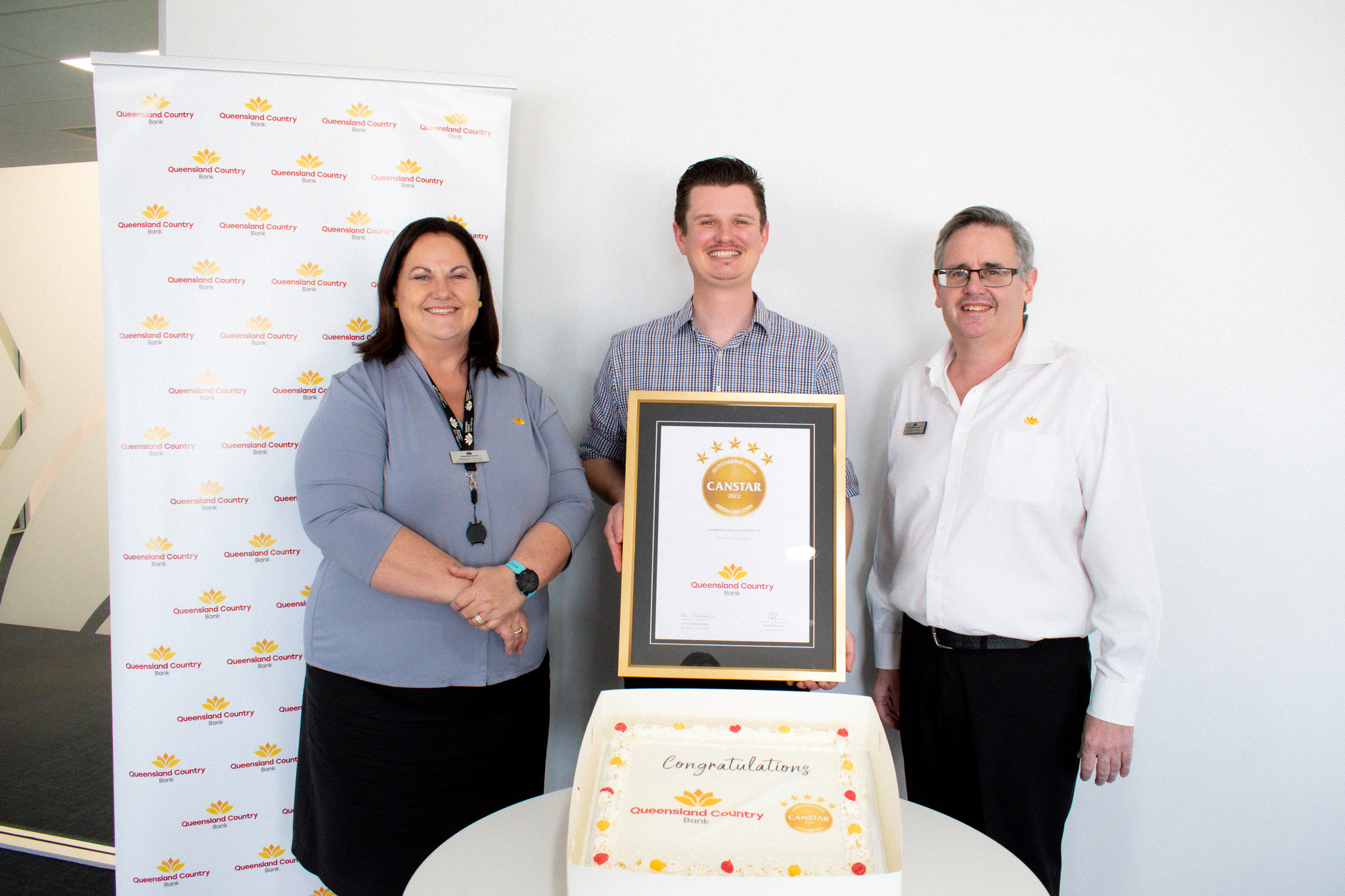 From Left: Rebekah Haynes, Kevin Smart (from Canstar) and Andrew McArdle.