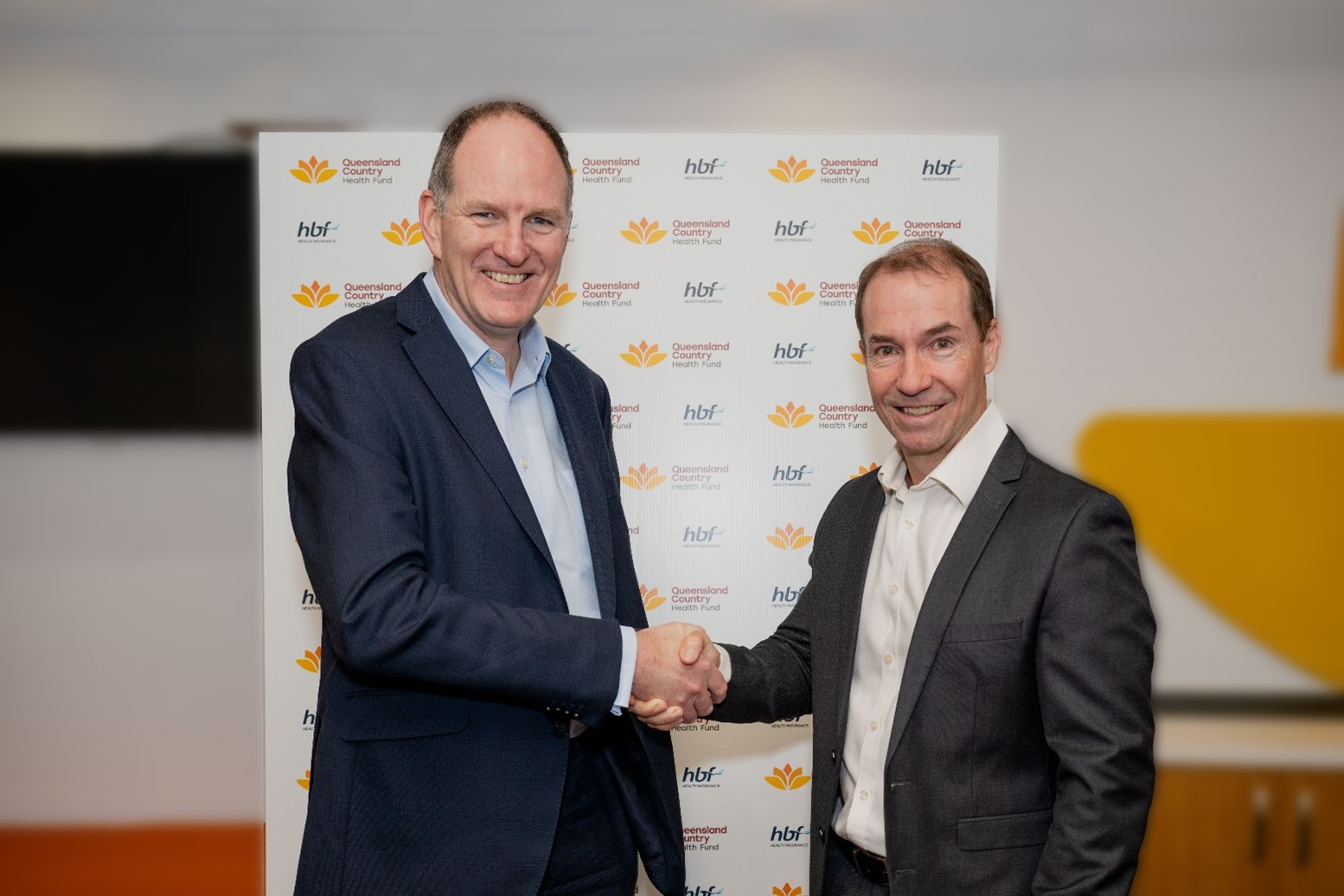 HBF Interim CEO, Simon Walsh and Queensland Country Bank Group CEO, Aaron Newman.
HBF and Queensland Country Health Fund (QCHF) are pleased to announce that QCHF is set to join HBF, Australia's second largest not-for-profit health insurer.
HBF has entered into a binding sale agreement to purchase QCHF from its current owner, Queensland Country Bank, in a transaction which will provide QCHF policy holders with the support of a large, specialist, not-for-profit, private health insurer and will further increase HBF's Queensland presence following its purchase of Queensland-based CUA Health (CUA) last year.
The acquisition is expected to generate considerable tangible benefits for both member-based organisations and their policy holders.
QCHF's approximately 70,000 members will see no immediate change. They will retain, and continue to benefit from, their current QCHF health policies. QCHF's entire workforce of approximately 100 employees will be offered continued employment at HBF at their current locations.
Townsville-based QCHF has six retail centres, 23 product distribution centres through QCHF's parent Queensland Country Bank, and three dental centres across regional Queensland that will be included in this acquisition.
QCHF also has a small market presence in the Northern Territory through its Territory Health Fund.
With the combination of CUA and QCHF, Queensland is expected to become HBF's second largest state in terms of market share and will see HBF policies outside its home state of WA increase to over 22%.
Beyond both being member-based organisations, HBF and QCHF have a strong cultural alignment and a unique understanding of the health insurance needs of regional Australians.
The acquisition of QCHF advances HBF's national growth strategy, bolstering HBF's economies of scale to deliver enhanced long-term outcomes for its 1.1 million members across the country.
Completion of the acquisition is expected to occur by mid-2023.

HBF Chair Diane Smith-Gander said:
"Bringing QCHF under the HBF banner simply makes sense for both organisations.
"By building economies of scale at a national level, and through our not-for-profit status and values, we will continue to provide competitively priced products and maintain high-value health cover for every one of our members.
"HBF is pleased that QCHF's confidence to join HBF was supported by the success of our CUA Health acquisition. That's testament to the seamless integration of CUA Health into HBF and our unwavering commitment to always do the right thing by our members.
"HBF is the most trusted private health insurer in Australia according to Roy Morgan research.
"We really look forward to welcoming QCHF's members and people into the HBF family."

Queensland Country Bank Group CEO Aaron Newman said:
"QCHF and HBF are both highly compatible organisations with a clear cultural alignment, both having a member-first ethos and proven track-record in delivering excellent health cover outcomes for the regional community.
"The success of the CUA Health acquisition was a key driver in our decision to join HBF.
"The acquisition will enable our approximately 70,000 members to leverage the benefits from HBF's robust scale, whilst maintaining the member-first focused business model QCHF's members strongly favour and are accustomed to.
"Crucially, all of our employees have the opportunity to continue their existing roles and will be warmly welcomed by the HBF team."