When Donna and Pierre realised their little boy Arthur (Artie) was not himself, they did what any parents would do and whisked him off to their local doctor in Atherton on the Tablelands. Little did they know this check-up would lead Donna and little Artie to be on the 1st available Royal Flying Doctors Service to be flown immediately to Townsville where he would be assessed by the paediatric team.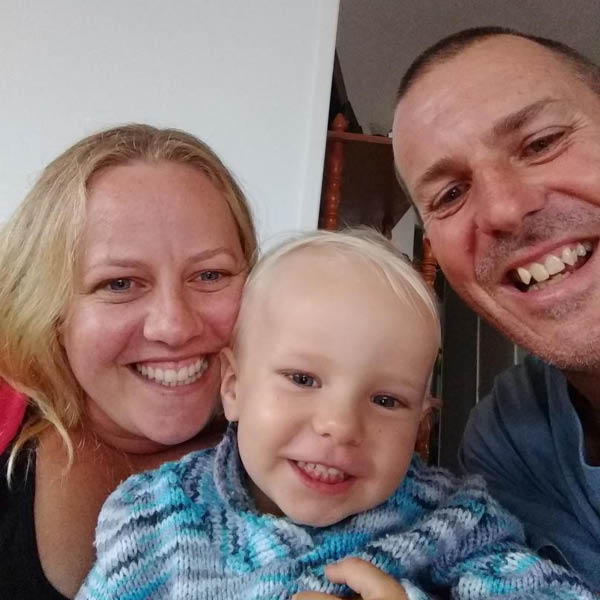 Leaving Pierre in Atherton to quickly pack some belongings and drive four hours to Townsville to be with his family, he really didn't have time to think about where he would stay once he reached the hospital.
With Donna staying by Artie's bedside, and nowhere for Pierre to sleep, he considered sleeping in his car so that he was as close to the hospital and his little boy as he could be.
"So Pierre could be close to the hospital and be there for us, he was going to sleep in his car, but thanks to Ronald McDonald House Charities North Australia (RMHCNA), he was able to stay right across the road to the hospital, keeping us close together while our little boy had surgery."
Although Artie only spent a few days in hospital before recuperating at the House across the road, the A'Bell family were lucky enough to discover the new Family Room within the Children's Ward at the Townsville Hospital.
"We only had a few days in hospital but utilised the new Ronald McDonald Family Room daily to get away from the hospital ward. This is where we met some amazing volunteers and staff who would make us a coffee and literally make us feel like we were in our own home while Artie played with all the toys and cubby house in the court yard."
"It was a warm, safe and inviting area we could be as a family and prepare ourselves for his surgery."
"Ronald McDonald House Charities North Australia is a wonderful charity and what they do for families during the most difficult times of their lives is wonderful. Thank you."
"We are so incredibly appreciative of the love, support and care we received from the volunteers in this room. We will forever be grateful to the Ronald McDonald House and Family Room in Townsville for keeping us close throughout our hospital stay."
Although Donna and Pierre weren't facing a life threatening illness with Artie's surgery, their heart goes out to all the families who they met whilst staying at RMHCNA.
"We were very fortunate Artie wasn't facing a life threatening illness and our heart goes out to all the families who have sick kids who are facing months in care."
"Artie is doing great with his recovery and will be back doing the things he loves in no time."
---
Learn more about our charity partner Ronald McDonald House Charities, how you can donate and show your support for the incredible work they do for our Queensland families.